Our Students Need Many Things to Succeed...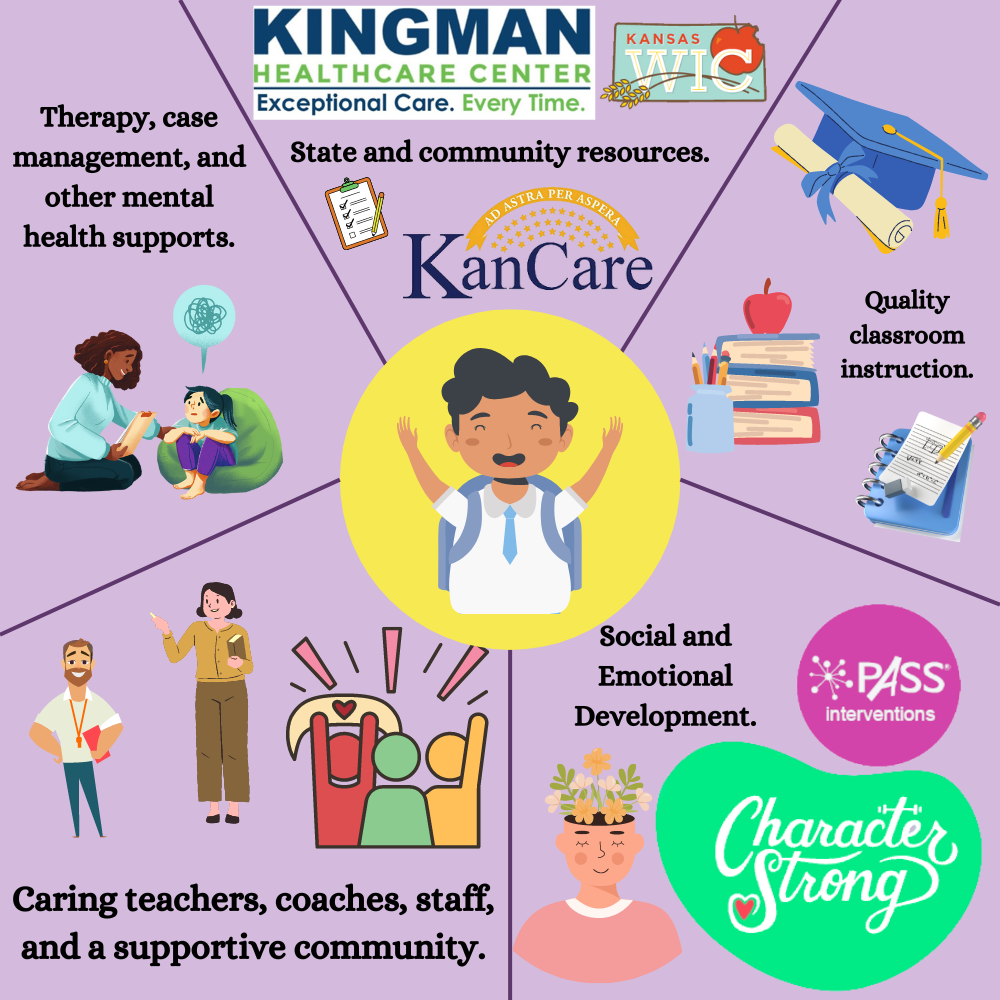 Our students don't exist in a vacuum. Even our top students feel stress outside of the classroom. And we all know that when it rains, it pours. Maybe Grandma is in the hospital. Maybe work is doing layoffs. Maybe your child just got a new, and scary, diagnosis. If you would like more information about KanCare, disability, psych evals, behavior assessments, WIC, etc. feel free to reach out to me. Maybe you don't even know what questions you have. That's okay, too! I've been down all those roads. I can point you in the right direction, let you know what to expect, and help you navigate those processes.
Additionally, Kingman-Norwich Staff is excited to let you know about a GREAT new service available to all of our students. We have a counselor who will come to the school on a regular basis to provide therapy for students. This means you (as a parent) will not have to worry about scheduling or transporting your child to appointments. Students won't have to miss hours of classtime due to travel. If your child has asked for counseling but you don't know where to begin; if your student is struggling with anxiety or depression; or if you would just like to start a conversation, please click the link below and complete a (short) referral form. It will come straight to me and we can explore the best options for you and your student: Referral Form
We are looking into options for adding in-person mental health services for our staff. Until that is arranged, here are some other options available.
How can I reach Ms Loveland?
LOTS OF WAYS!
Give me a call! Just call the office at your local school and ask for 'Lydia Loveland.' My direct extension is x2352. If I do not answer, please leave me a message. Not all missed calls leave a record on the phone. If you do not leave a voicemail I will not know you called.

You can email me at lloveland@knusd331.com. This is usually the best way to reach me.

I have a phone number just for students to text me: 913-914-7574. If you text me during class time I WILL NOT reply. Your phone should be put away! Why leave your phone in your locker?

Click this link to request an appointment on my calendar: KMHS Booking Page, KES Booking Page, & Norwich Booking Page. You can bookmark those pages. You can also request a Google Meet time, if that works better for you.