Check out #KES2021fall on Twitter. KES staff went on a scavenger hunt and as you can tell by the pics, they had a great time. See if you can figure out the specific item they were looking for. GO EAGLES!
Pretty excited about both high school varsity gyms at Kingman & Norwich. Looking classy Eagles! Bring on volleyball & welcome back to the greatest kids & student athletes anywhere!! #GoEagles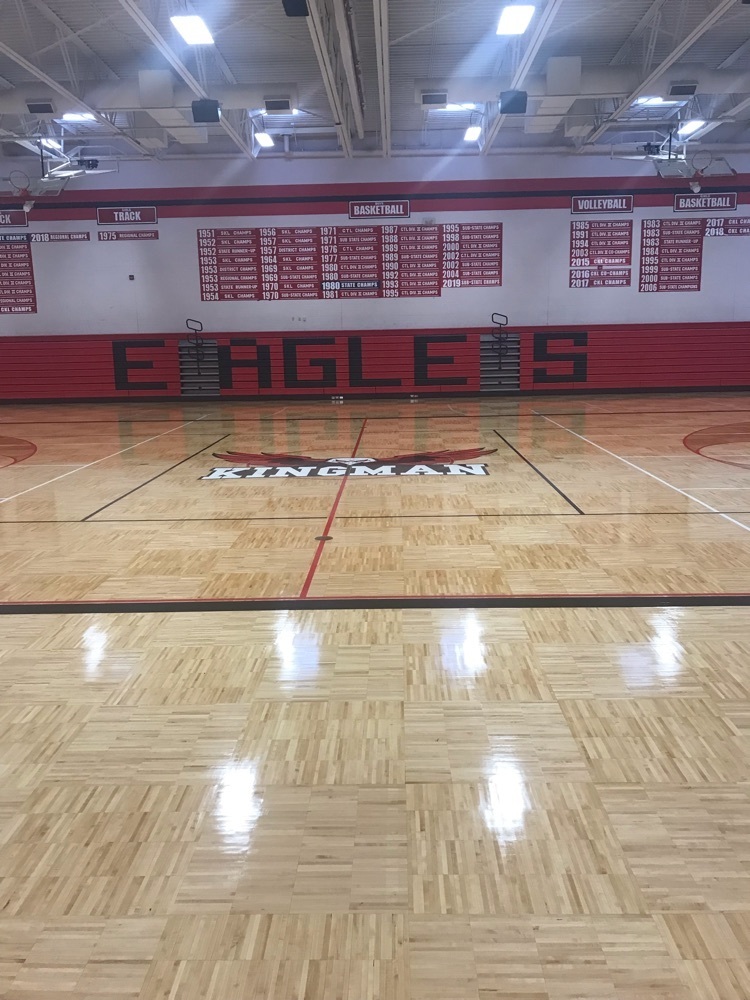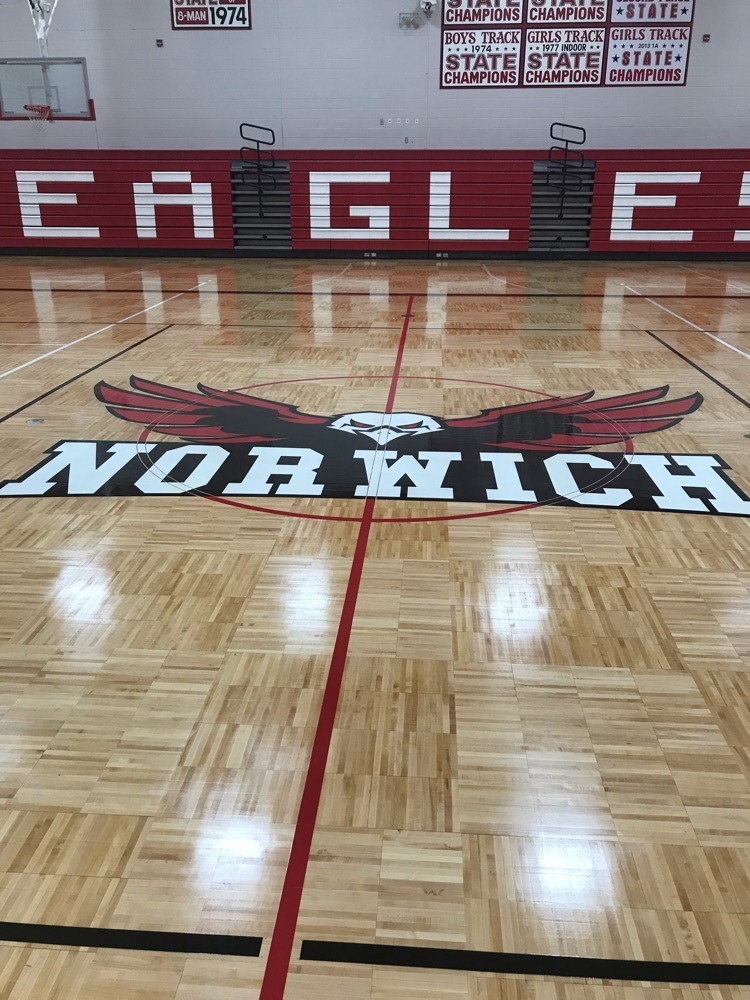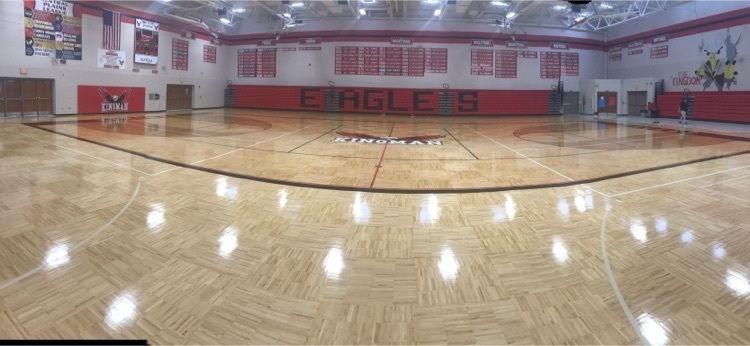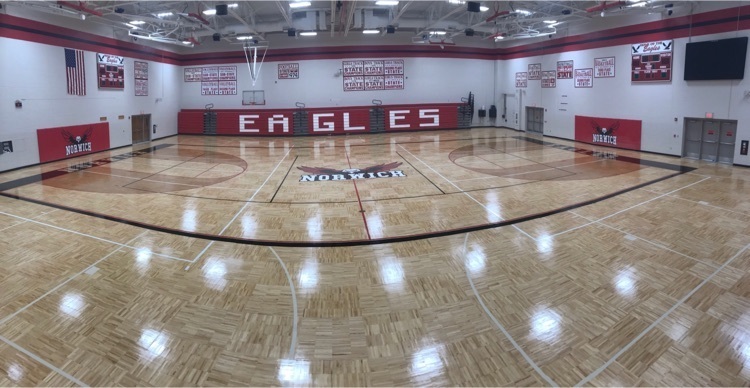 KES OPEN HOUSE!! We would like to invite all Pre K-6 Parents/Guardians to our come and go Open House on Tuesday, August 17 from 6 - 7 pm. You and your child can meet the teacher and drop off supplies. GO EAGLES!

Kingman is offering a mini screening for Pre-School aged kids on Thursday, August 19 from 1 pm - 3 pm. The screening will be held at KES. For more information and to schedule an appointment, contact our office at: 620-532-3186.

Our community really knows how to roll out the red carpet for our new teachers! Thank you to our local businesses for helping us shower our new teachers with gifts. We have 14 new teachers, a new athletic trainer and a new Superintendent. Welcome to Kingman and Norwich! It's going to be a great year! #GOEAGLES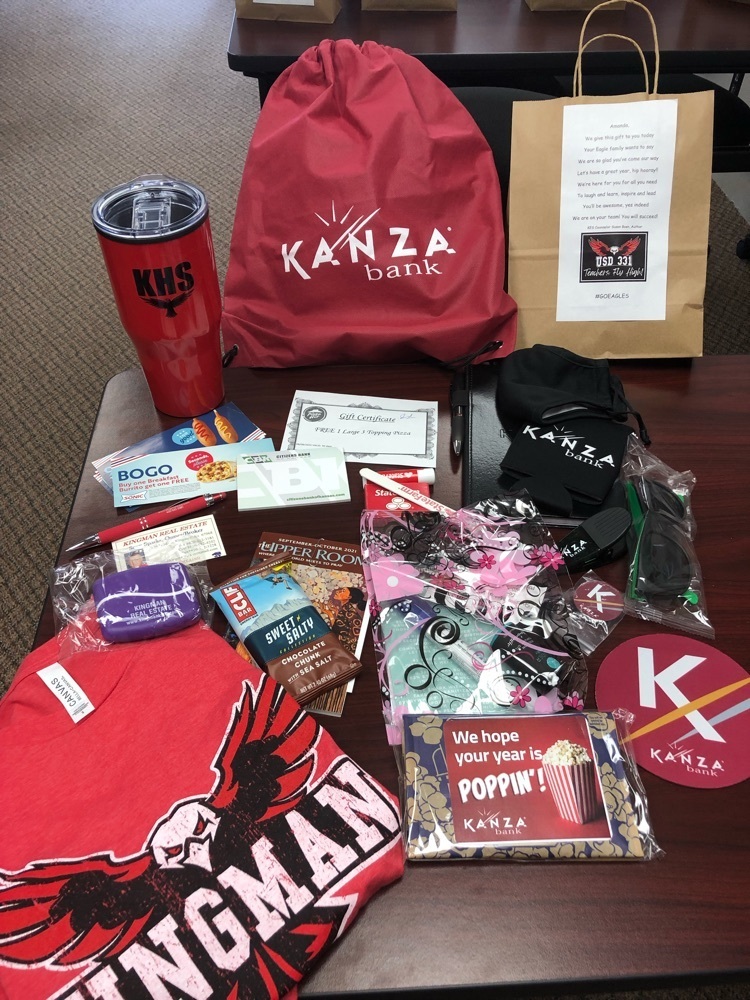 July 27, 2021 From the Kingman County Health Department: Active COVID 19 cases have jumped from 4 active cases last Wednesday to 16 active cases as of Monday, July 26, evening. 4 of these cases are currently hospitalized. A couple of our active cases have received full vaccination series, but they are not among the hospitalized. Kingman County Health Department has learned of another COVID-related death, bringing the total deaths to 12 in the county. We have also learned of 2 confirmed cases involving the Delta Variant since last report. The COVID-19 scene in Kingman County has changed dramatically from last week and is similar to what we are seeing across Kansas. The people we are seeing most heavily impacted by serious illness, hospitalizations, and variants of concern have not been vaccinated. County Health has been getting more requests for COVID-19 vaccination, and are working to respond to those needs. As of Friday, August 6, KM Co. Health tentatively plans to start offering COVID-19 vaccinations on Fridays in addition to Tuesdays. We have heard concerns about side effects and had requests to get vaccine closer to the weekend; we hope Friday appointments will help ease those worries. We continue to offer all 3 COVID-19 vaccinations available: Moderna, Pfizer, and Johnson & Johnson. Please call Kingman County Health Department at 620-532-2221 to schedule your vaccine. If you aren't able to get here, please check out
https://www.vaccines.gov/search/
to find a COVID-19 vaccine provider near you. This is a great time to update the other vaccines that are needed as well.
Outstanding Educational & Informational video hosted by Kingman High's own student, Sukesh Kamesh with Dr. Norman of KDHE. Worth your time if you want to learn more Facts about COVID and vaccinations. Click on Youtube Link
https://youtu.be/U8HmjD9i7ng
#EaglePride
From: Kingman County Health Department July 14, 2021 As of 9:15 today, we have 2 active COVID-19 cases. One of these people is currently in the hospital. None of our active cases are vaccinated. If you are wondering how Kingman County is doing on COVID-19 vaccinations, please check out the data on the Kansas COVID-19 vaccination website:
https://www.kansasvaccine.gov/158/Data
To break it down per 1000 population, we are sitting around 42% for fully vaccinated people among all vaccine eligible people (12 years and older) in the county. For total county population, the percentage of fully vaccinated individuals is around 36%. We do have all 3 COVID-19 vaccines on hand to help improve these vaccination rates-give us a call at 620-532-2221 to schedule an appointment-we can vaccinate anyone 12 years and older. Anyone who has had COVID-19 still needs to be vaccinated, as we are finding vaccination is providing a more robust immune response in comparison to natural infection. Infection rates are trending upward, especially in areas where vaccination rates are low-viruses are going to spread and adapt when allowed to be transmitted more freely. Fully vaccinated people have a much lower risk of serious illness and hospitalization…and quarantine is not required when fully-vaccinated people are identified as close contacts to people testing positive for COVID-19. Fully vaccinated people are also not asked to mask up when in public in most settings. If anything, we encourage everyone to consider vaccination's benefits. We have come a long way in this pandemic, but the pandemic is not over-there are people still getting seriously ill; let's continue to look out for each other.
Work continues on our gyms. This is progress from Monday morning to Tuesday morning. Painting is next. Excited for final "reveal" at both NHS & KHS but both gyms will be "off limits" until August. The wait will be worth it. #GoEagles #EaglePride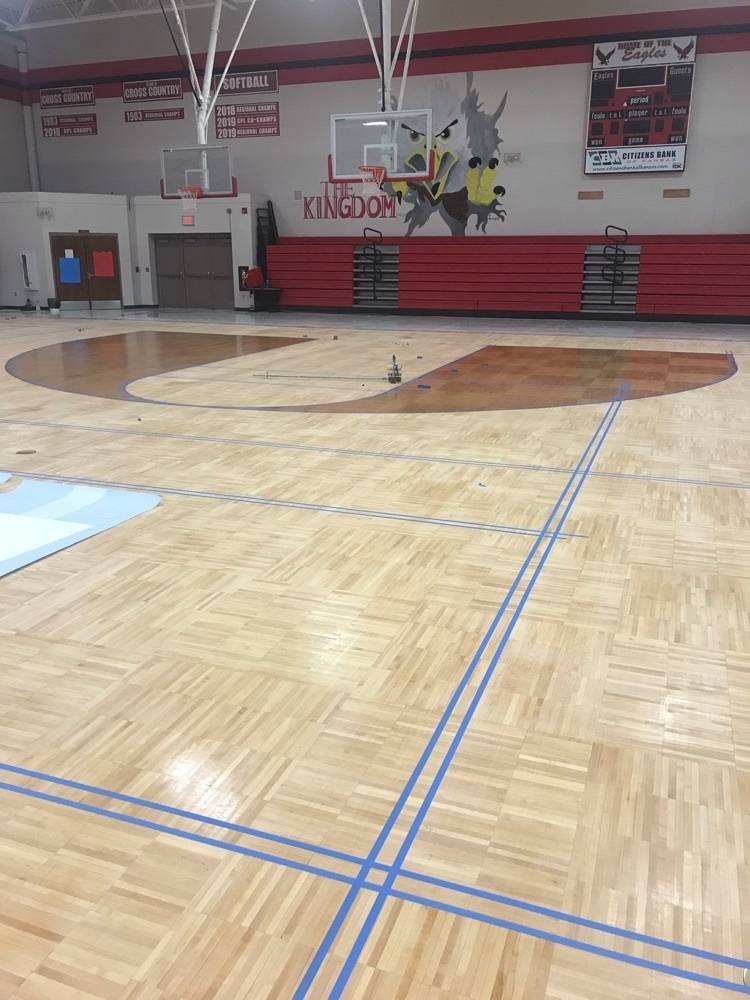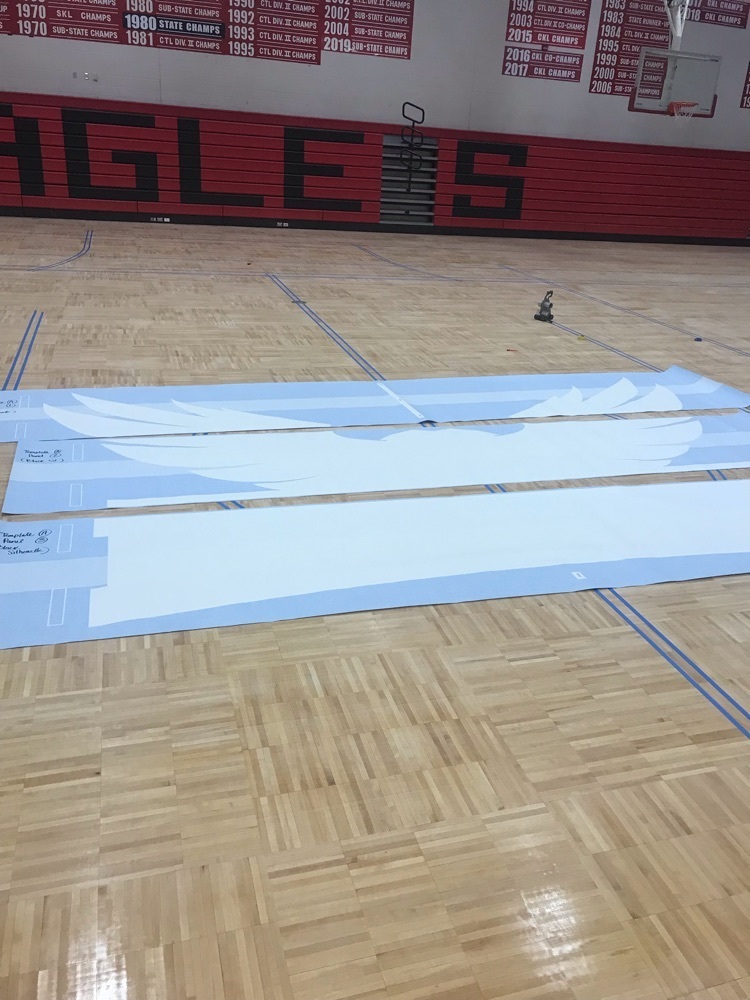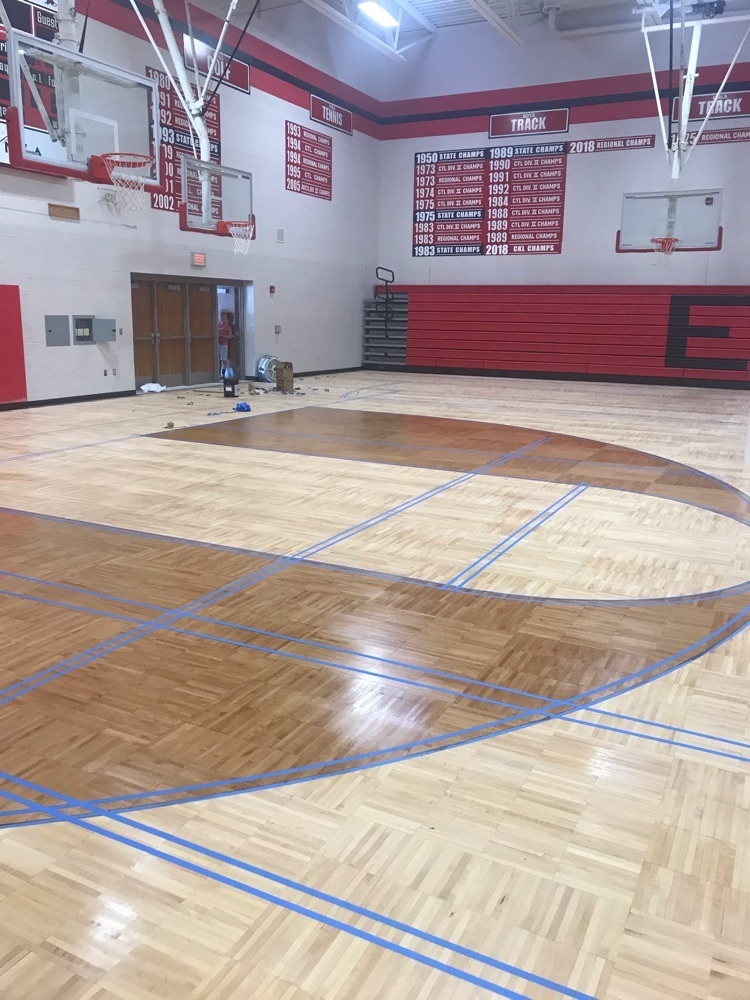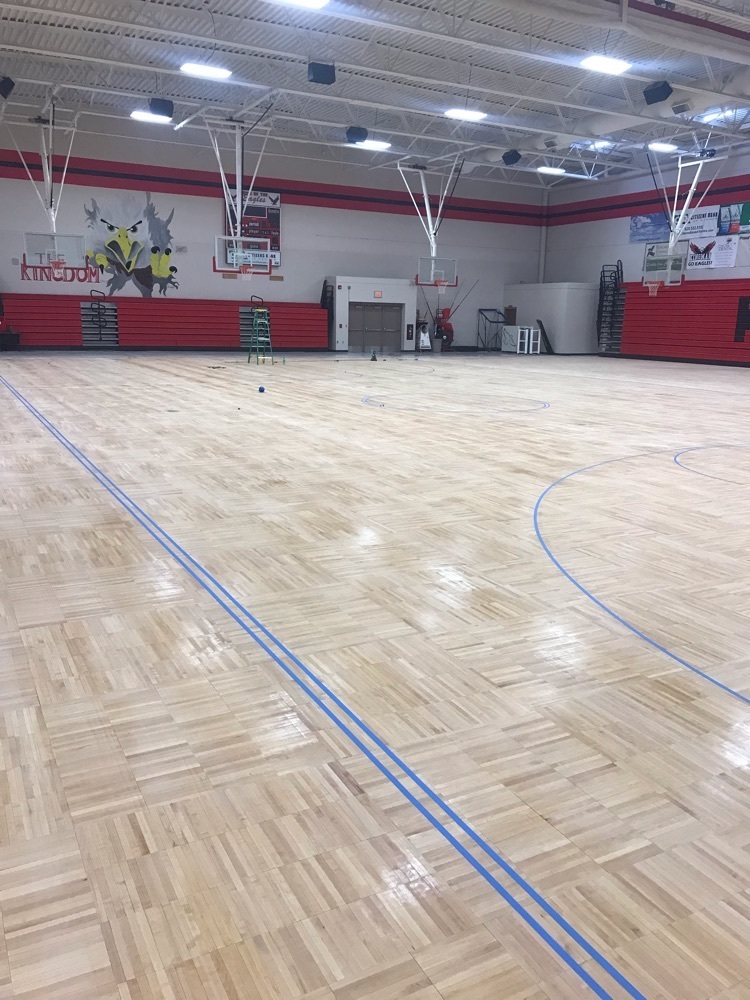 Work continues on our gyms. This is progress from Monday morning to Tuesday morning. Painting is next. Excited for final "reveal" at both NHS & KHS but both gyms will be "off limits" until August. The wait will be worth it. #GoEagles #EaglePride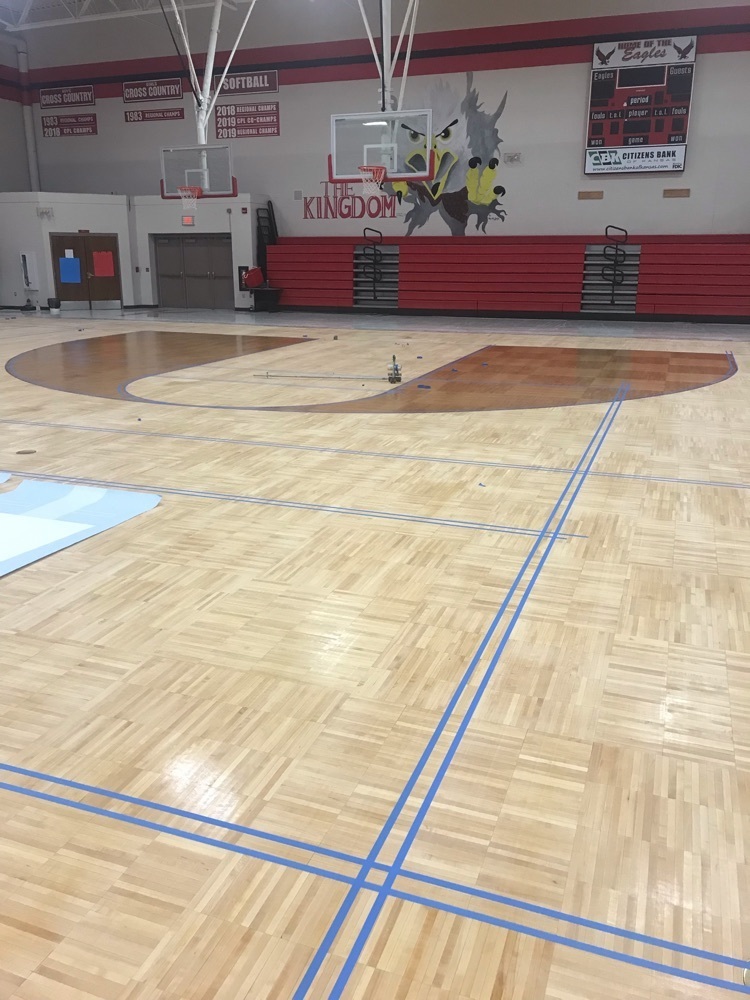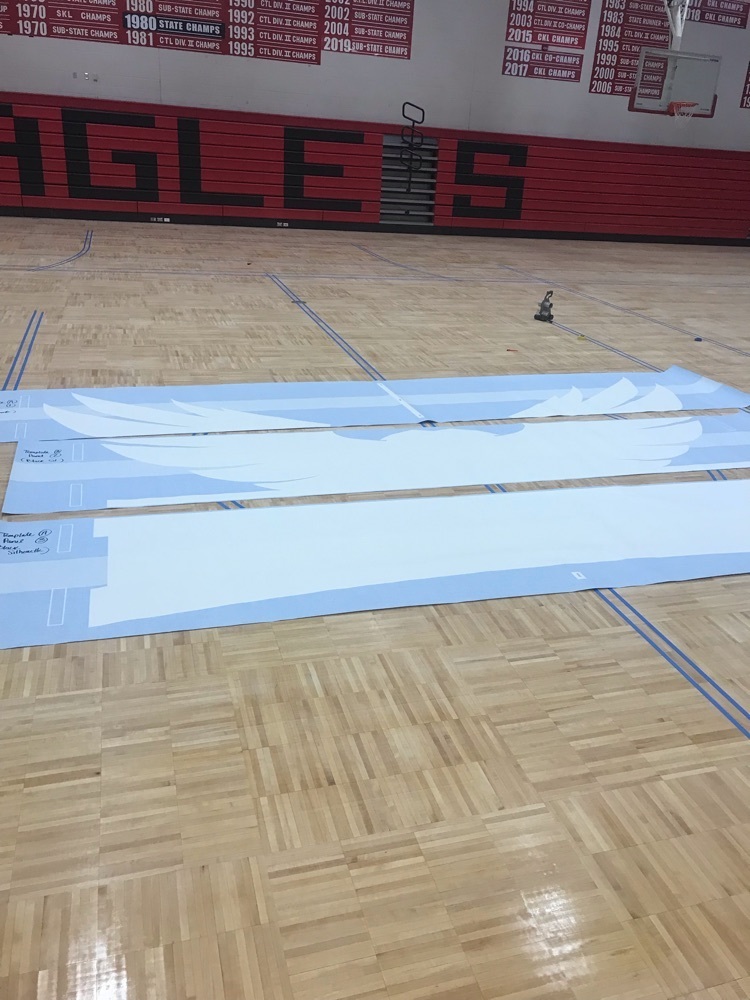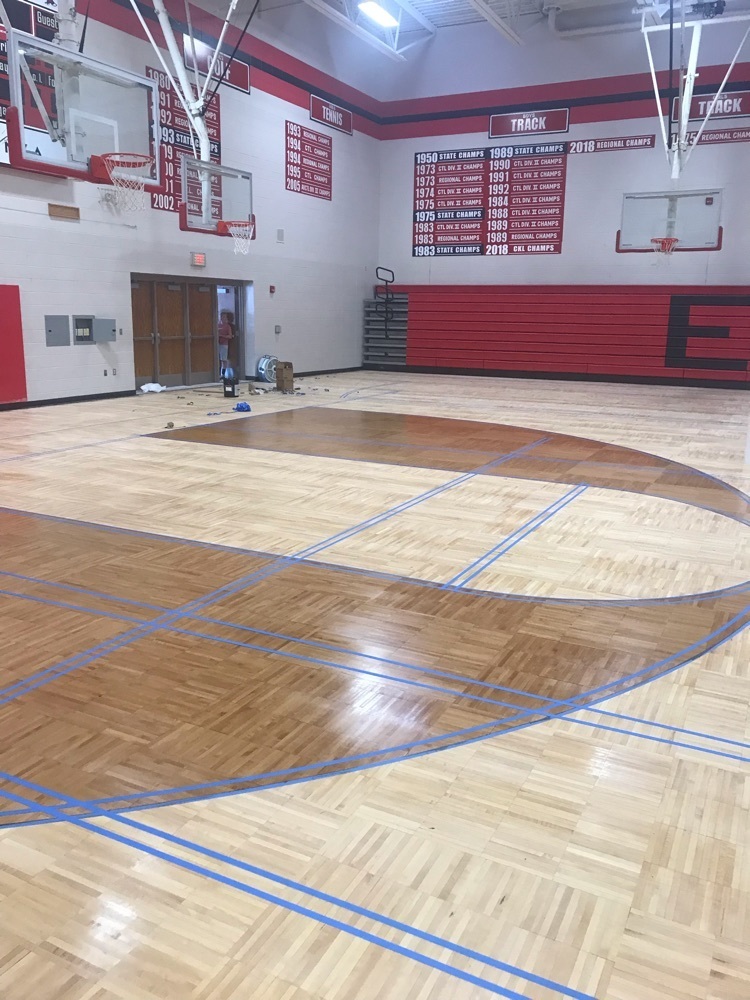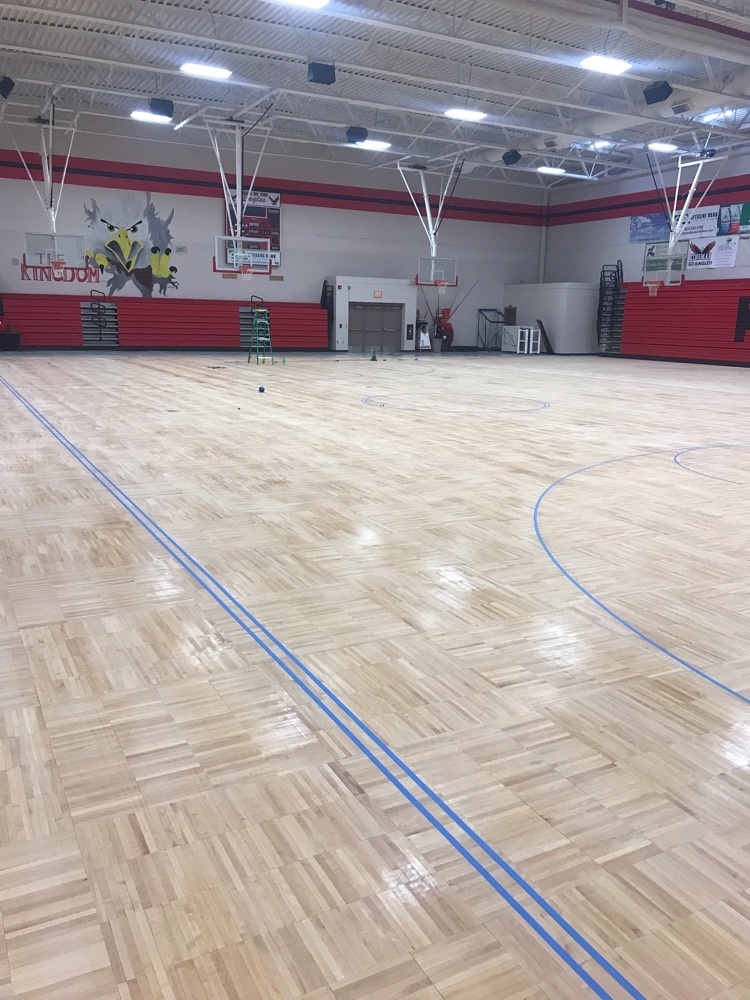 Day 1 of refinishing varsity gym floors at both high schools has begun. Sanding down to bare wood, then repainting, new graphics! New, fresh look! #GoEagles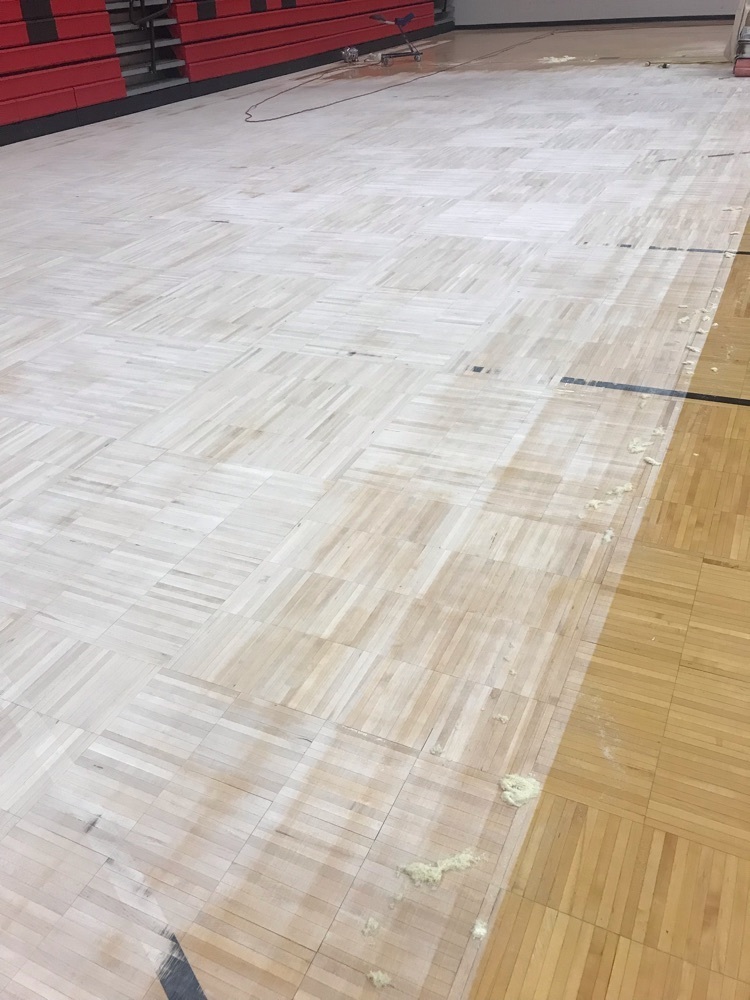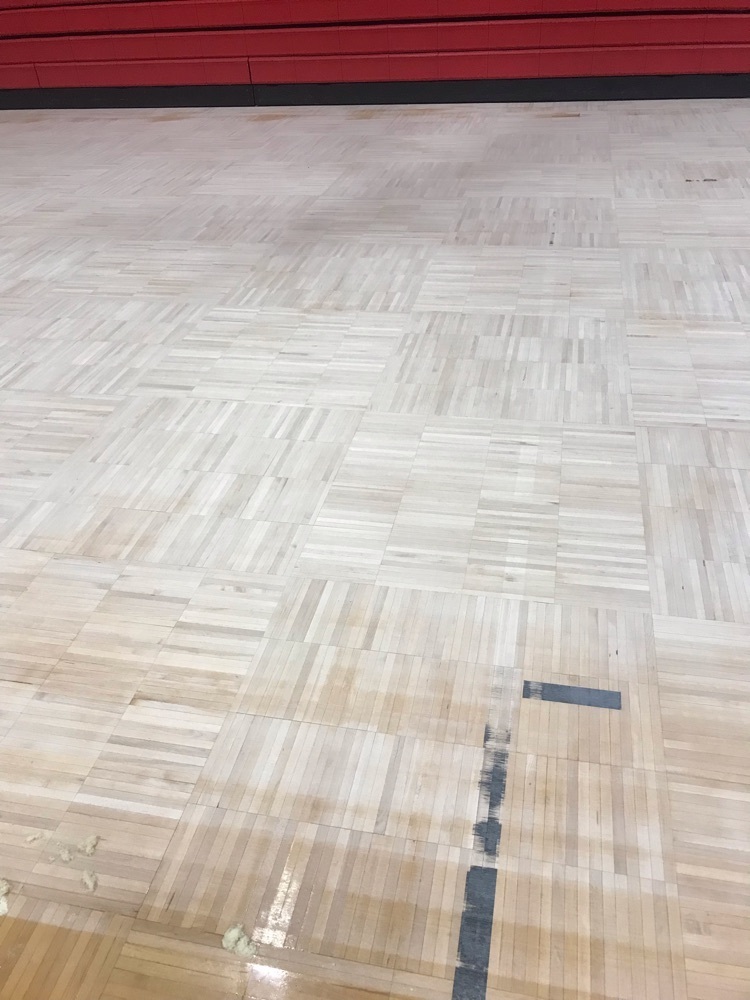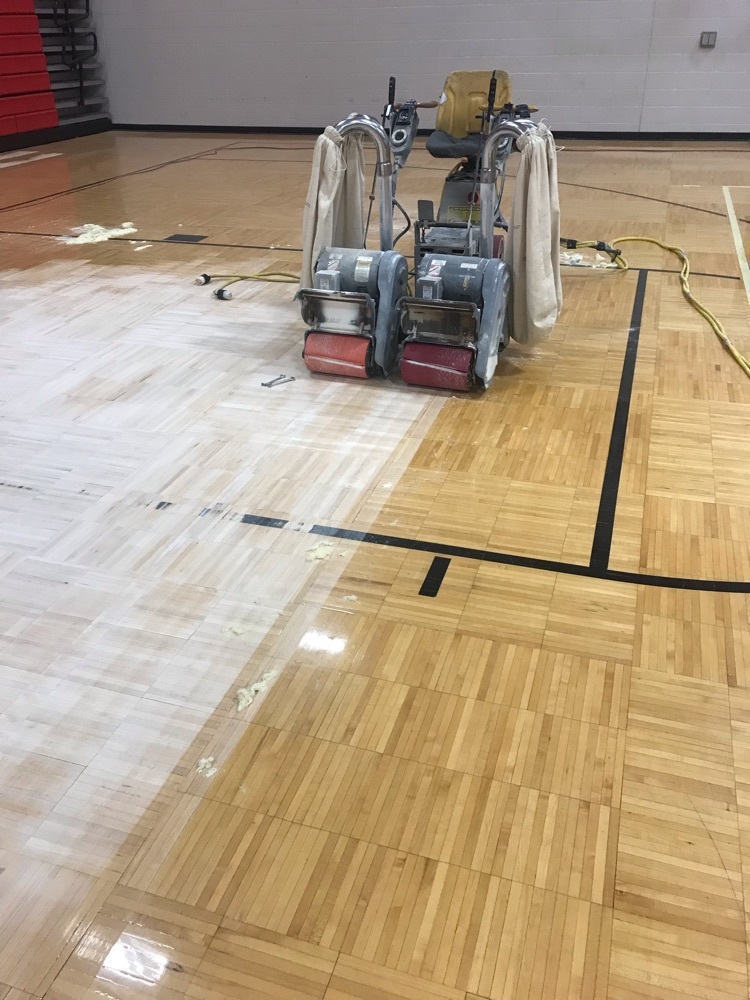 Local, Kingman County Police, Sheriff's Deputies & State Troopers are doing Emergency Response exercises & drills in our USD 331 schools today & this week. Thank you to our Law Enforcement for always being prepared. #GoEagles #EaglesPrepared
#EaglePride!! Kingman High Athletic Director Rollie Van Wyhe & local Sports writer Bob Morris recognized by KIAA as KS Sportswriter of the Year & District 4 A.D. of the year! Congratulations!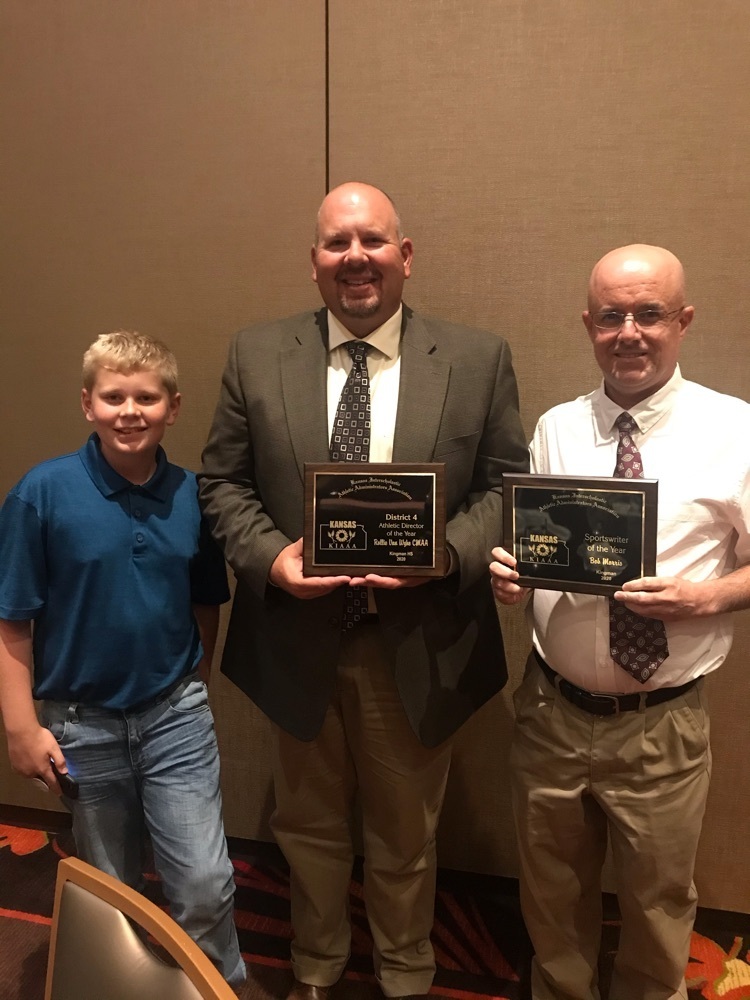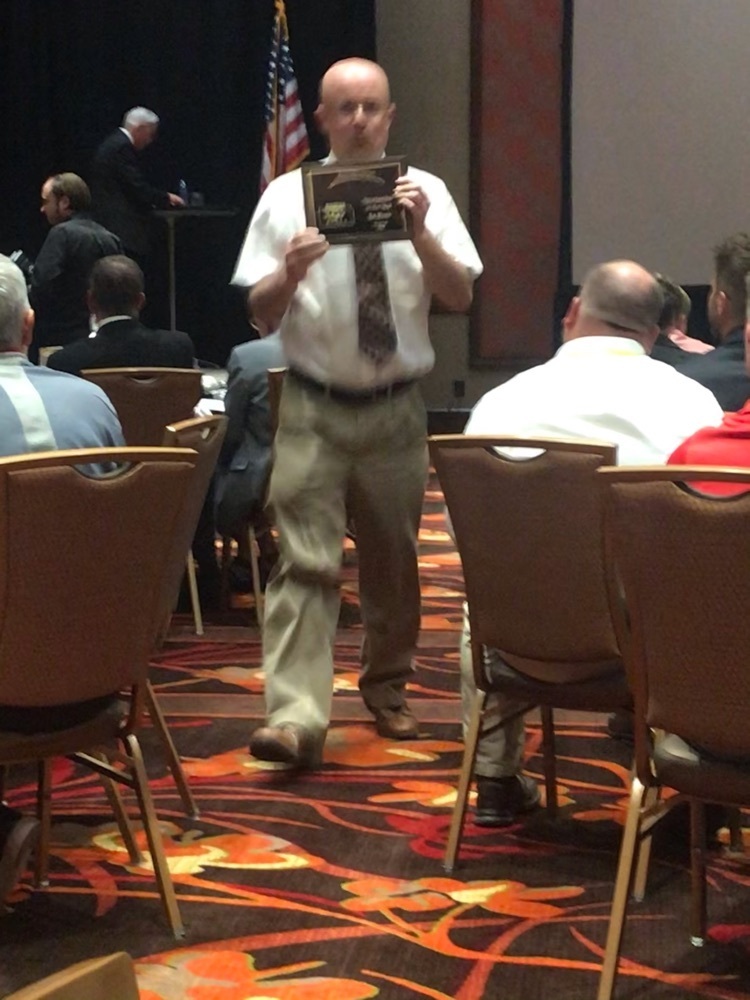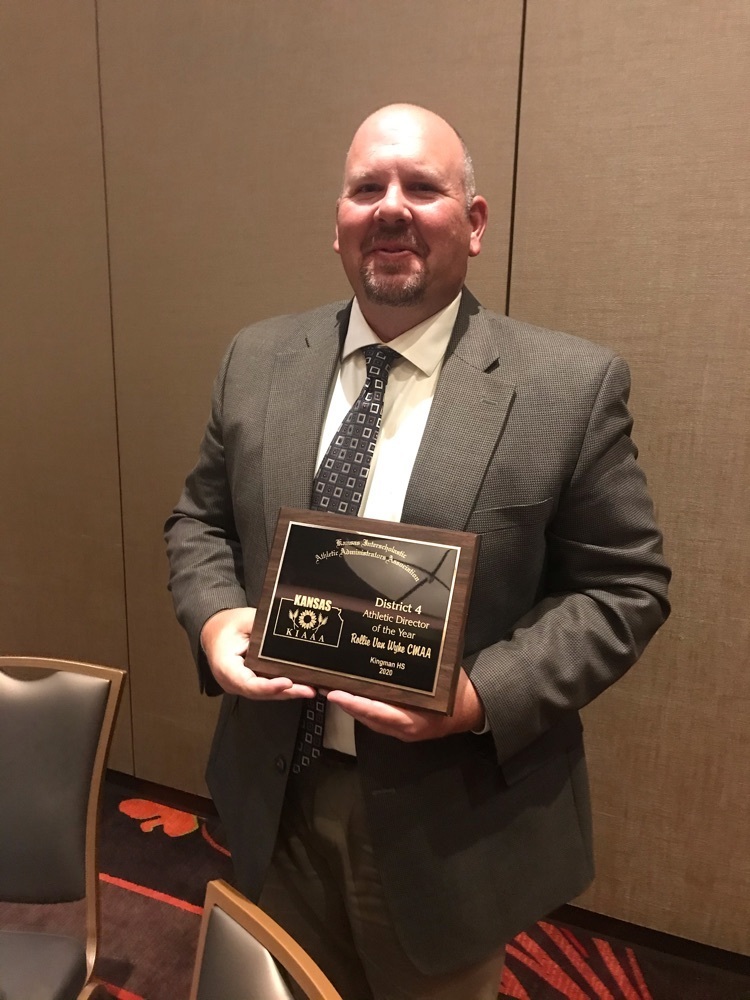 Kaitlyn Scott-Welch competed in 300 hurdles & 200 at 1-A State Track. Not her day to medal but great leadership for Norwich HS & track. Congratulations!! #TeamNorwich #GoEagles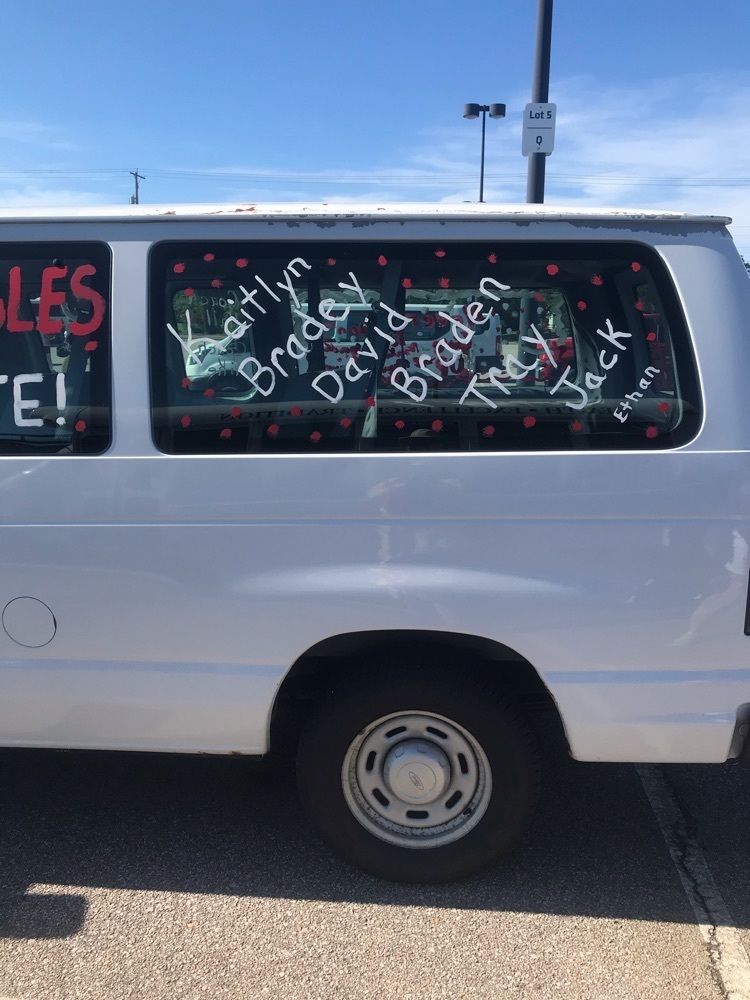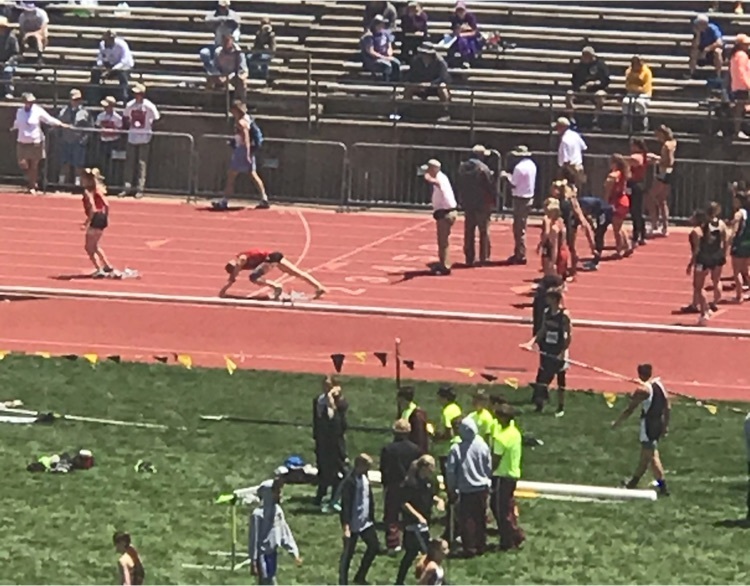 Norwich freshman Tray Schroeder in blocks for 300 hurdles at 1-A State Track. Didn't place but still had a great day! #NorwichProud #GoEagles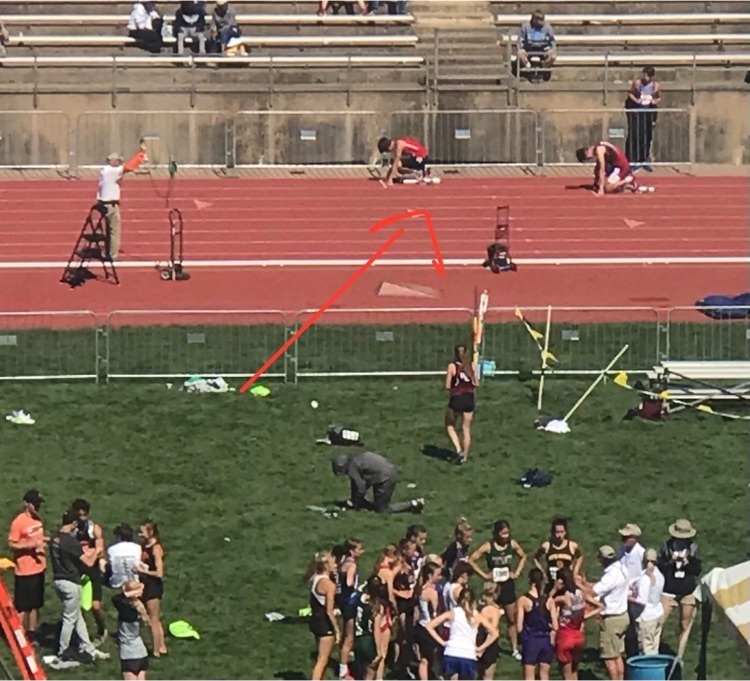 1-A State Track Meet- Norwich Senior David Bushey getting ready for finals in 200. Finished 8th earning another medal to go with his 4x100 GOLD medal earlier! Congratulations! #GoEagles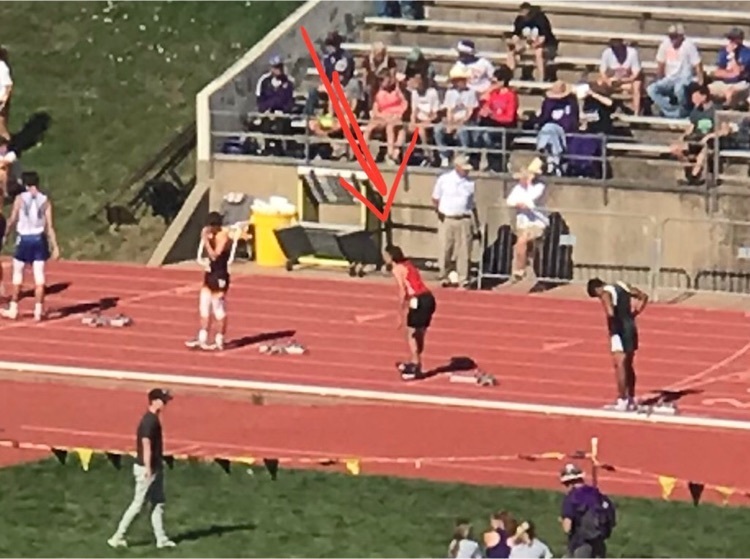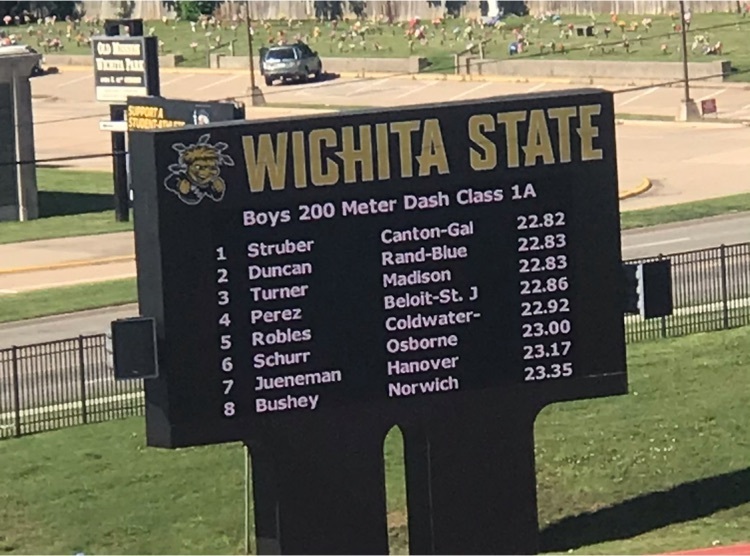 Kingman's Kayla Belt cuts a full second off her PR running a 61.55 & placing 8th in the 400 at Kansas State 3-A Track Meet. Congratulations! #GoEagles #EaglePride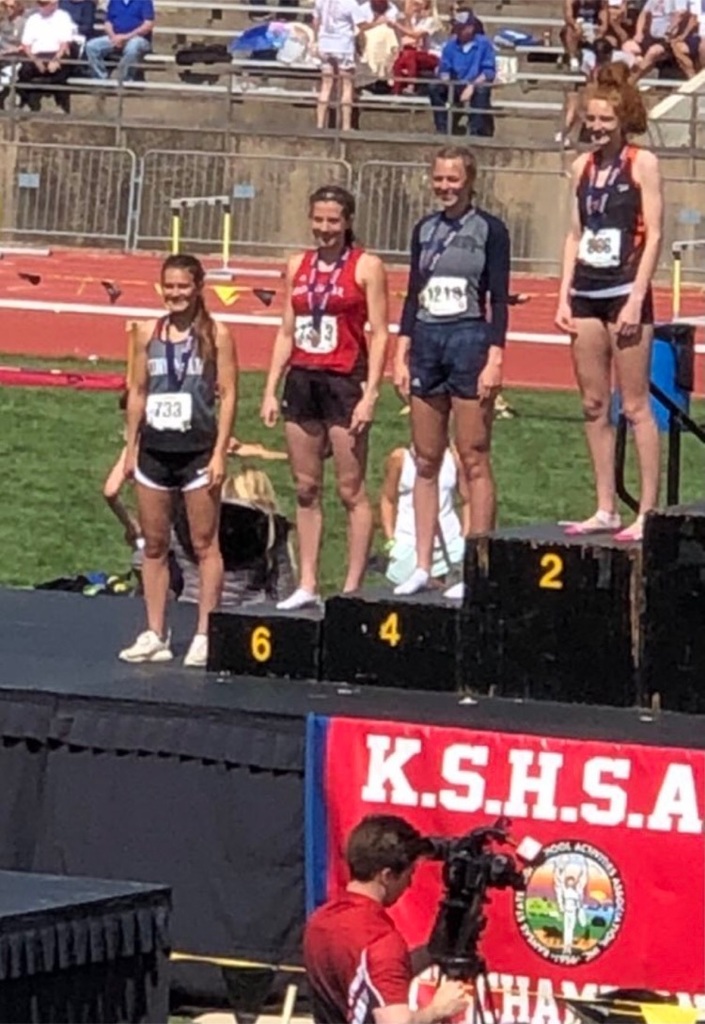 Kingman's Marissa Deweese placing 6th with a time of 26.95 in the 200m at 3-A Kansas State Track meet. Congratulations! #GoEagles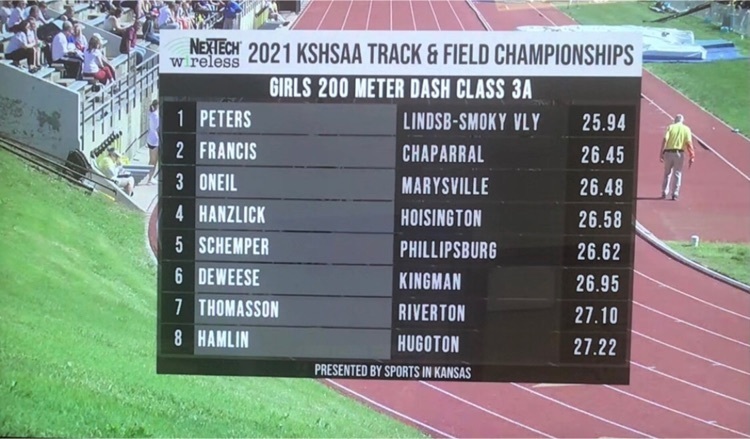 Kingman's Avrey Albright places 4th in the 800 with a time of 2:03 at the 3-A State Track Meet. Nice time! Bright future for this sophomore in a grueling race! Congratulations! #GoEagles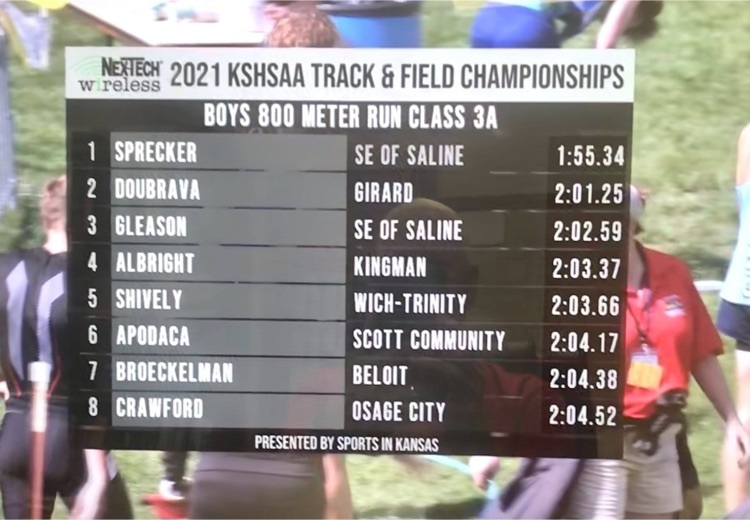 Kingman's Marissa Deweese qualifies for finals in 200. She will enter finals with the 6th fastest time. Finals be run around 6:30 this evening. #GoEagles